Unwavering Reliability in Challenging Conditions
Construction and infrastructure projects demand solutions that can withstand the elements. You can rely on our enclosures to provide uncompromising protection for your installations, even in the most challenging outdoor environments. From corrosive protection for pull/junctions to panel applications in DOT, airports, and various building projects, our wide array of enclosures, boxes, and wireway configurations offer the dependable defense your projects demand.
As a trusted leader in enclosure solutions, Fibox is your unwavering partner in safeguarding installations that shape the future. Our commitment to reliability, innovation, and durability is reflected in our diverse lineup of enclosure solutions, tailored to conquer the challenges of demanding outdoor environments.
A Spectrum of Solutions for Seamless Integration
From monumental bridges and cutting-edge tunnels to sprawling roadways and bustling airports, Fibox offers a diverse range of commercial enclosures and wireway solutions with a track record of excellence. Our reputation for innovation and durability speaks volumes about our commitment to powering your projects while seamlessly integrating with your installations. With Fibox enclosures, you can advance confidently, knowing that your crucial infrastructure is fortified against challenges.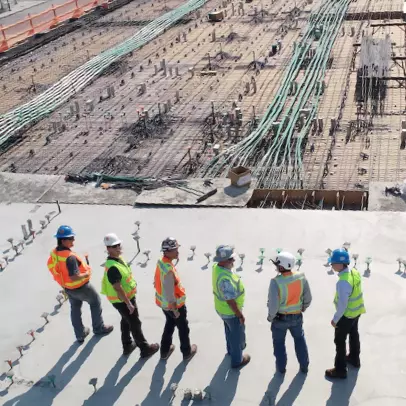 Shielding Against the Elements
Rain, weather factors, and other environmental challenges are no match for Fibox enclosures. Our solutions are meticulously engineered to surpass minimum environmental rating requirements, providing reliable 3R and 4X protection. Whether rain or shine, our enclosure design and construction ensure that your critical components remain shielded, maintaining peak performance even in the face of harsh weather conditions.
Exceeding Industry Standards
At Fibox, we hold ourselves to the highest standards to ensure your installations are safeguarded without compromise. Our enclosures are engineered and manufactured to meet and exceed the stringent UL and NEMA standards. This commitment to excellence guarantees that your critical components are enveloped in protection that's second to none, allowing you to focus on powering the way without worrying about equipment security.
Connect with Our Vision
Embark on a journey of construction and infrastructure transformation. With enclosures designed for unwavering protection and perfectly aligned with your project's needs, your installations will thrive even in the most demanding outdoor environments. Experience the Fibox difference, where innovation meets infrastructure excellence.
Find a Local Rep
Back to Industries