CAB Enclosures
The CAB wall-mounted hinged plastic electrical enclosures feature opaque or transparent cover options and quick-release pad-lockable latches to limit access to components. CAB NEMA 4X enclosures are ideal for mounting and housing operator controls and process controllers. Sturdy, impact-resistant polycarbonate withstands harsh and demanding weather from freezing rain to blazing heat.
Ranging in size from 8″x12″x7″ to 23″x15″x8″, this rust-free, watertight enclosure is the ideal non-metallic electrical cabinet enclosure for both indoor and out applications. Ultralight-weight polycarbonate enclosures offer the highest protection level in hostile locations against corrosion and the elements, including rain, sleet, and snow.
Material: Polycarbonate
NEMA Type: Type 1, 4, 4X, 12, and 13
Size Range (H x W x D) in: 11.8 x 7.9 x 7.1 D → 23.6 x 15.7 x 8.7 D
Size Range (H x W x D) mm: 300 x 200 x 180 D → 600 x 400 x 220 D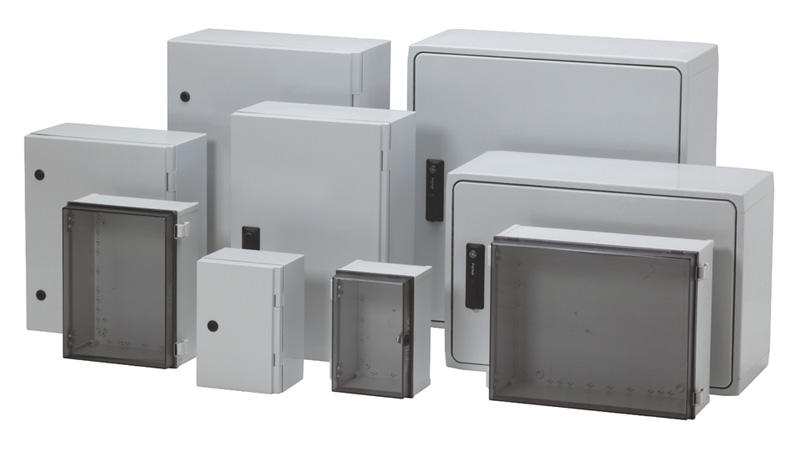 CAB Products:
Size Range (H x W x D):
CAB Enclosure Options
The CAB enclosure features European styling and will outlast its fiberglass and metallic enclosure counterparts. With custom cutouts and colors available and all the standard hardware and accessories you could need, Fibox can easily customize your CAB polycarbonate enclosure and truly make it unique to your application needs.
For larger cabinet enclosures with comparable NEMA ratings, check out the ARCA-IEC cabinet enclosures, the marketplace's largest polycarbonate type 4X cabinet enclosure.
To learn more about CAB series cabinet enclosures, contact Fibox customer service.
CAB Product Catalog
CAB Technical Information
Conformity to standards:
USA Enclosures for Electrical Equipment
UL Type 1, 4, 4x, 12, and 13; UL File E75645
Canada Industrial Control Equipment
Enclosures for Electrical Equipment/cUL
Europe Empty enclosures for low-voltage switchgear and control gear assemblies EN 62208:2003 (50298:1998)
Europe Safety of Information Technology Equipment EN 60950
RoHS directive 2002/95/EC
Russia GostR - Gost Russian certificate of conformity
| Property | Polycarbonate (PC) |
| --- | --- |
| Ingress Protection (EN 60529) | IP 65 |
| Impact Resistance (EN 62262) | IK 08 |
| Temperature Range, short term (Celsius) | -40°...120°C |
| Temperature Range, short term (Fahrenheit) | -40°...250°F |
| Temperature Range, continuous (Celsius) | -40°...80°C |
| Temperature Range, continuous (Fahrenheit) | -40°...175°F |
| Electrical Insulation | Totally insulated |
| Light Gray Parts Color | RAL 7035 Industry Gray |
| Transparent Clear PC Cover | Smoked Gray |
| Hinges and Latches (PC) | RAL 7035 |
| Gasket | PUR/EPDM |
| Enclosure Flammability Rating | Complies with UL 508 |
| Glow Wire Test (IEC 695-2-1) Self-extinguishing (PC) | 960°C |
| Non-toxicity | Halogen Free |
| UV Resistance | Complies with UL 508 |
| Chemical Resistance* | Good |
Data subject to change without notice.
* Consult separate raw material data for more detailed information
GET PRODUCT SUPPORT
Have questions or need support? The Fibox team is here to help.
Contact Us