Inspection Windows
Fibox inspection windows permit viewing and access to readouts and controls, surface-mounted on metal or non-metallic enclosures. While providing access, when locked closed, these inspection windows maintain an enclosure environmental rating up to NEMA 4X. Available in 12 sizes, including four new second-generation windows featuring transparent smoked gray polycarbonate for improved UV protection of covered components.
Material: Polycarbonate
Size Range (H x W x D) in: 2.36 x 3.03 x 0.04 D → 14.84 x 13.03 x 0.04 D
Size Range (H x W x D) mm: 60 x 77 x 1 D → 377 x 331 x 1 D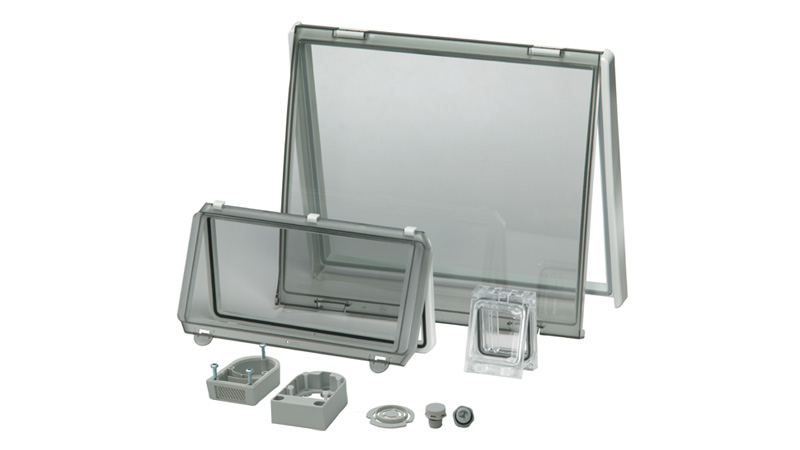 Windows Products:
Size Range (H x W x D):
About Instrument Protection Windows
Fibox, the world leader in polycarbonate enclosures, presents an innovative view of your controls with the ARCA IPW (Instrument Protection Window). The IPW allows for easy viewing of meters or displays and affords direct access to HMI controls on any enclosure. With a working depth of over 3 inches, Fibox's IPW provides an easy to install, secure HMI access point on any underlining surface while retaining its NEMA 4X classification. The IPW maintains a water and dust-free environment thanks to a formed in place polyurethane gasket and streamline lockable cover.
Rugged, UV-protected, impact-resistant polycarbonate makes the IPW a robust solution for all cabinets and control panels. With two sizes available (12″x10″x3.31″ and 16″x14″x3.31″), the IPW is made to the same exacting standards of all Fibox enclosures and is UL-listed and rated NEMA 4X, and IP66/67.
Watch our installation video to see just how easy Fibox makes protecting your controls and components.
To learn more about the IPW, contact Fibox today.
Inspection Windows Product Catalog
GET PRODUCT SUPPORT
Have questions or need support? The Fibox team is here to help.
Contact Us