Enclosures for Solar Power
Solar power is the conversion of energy from sunlight into electricity, either directly using a photovoltaic system, or indirectly superheating water to turn a turbine or take a hot shower. Fibox provides enclosures for solar applications for tracking, collecting, and distributing power.
Solar panels and inverters get all the attention and admittedly look great in a photo. However, enclosures for the solar industry and other Balance of System (BOS ) components are often overlooked. The enclosure you select is just as important and deserves equal attention. After all, if these solar BOS electrical components are not protected from the elements, then your solar application may not work efficiently or at all.
As the cost of solar panels decreases while their effectiveness increases, more and more people, companies, and countries are migrating to solar power. Your design will need to weather the elements out of doors and operate in extreme environments. As competition increases, you must offer a long service life to your clients. Therefore, non-conductive Fibox products are the perfect enclosures for the solar industry. Fibox solar industry enclosures are UL-listed and rated NEMA 4X, and offer outstanding UV protection. In short, Fibox protects your equipment from the ingress of water and dirt and won't dry out in the sun. In addition, Fibox enclosures make service and inspection hassle-free and straightforward.
Enclosures for Solar Applications
Solar Power Inverter
Combiner Boxes
Transition Boxes
DC Disconnect Boxes
Rooftop Junction Box
Solar Tracking Systems
Rapid Shutdown Solutions
Control Systems and Switchboards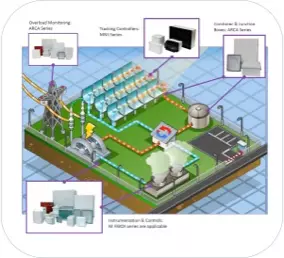 Enclosures for Solar Power
When deciding what enclosure to utilize for the various BOS components in a solar power project, you must consider the following:
UV exposure
Temperature
Humidity
In short, Fibox non-metallic polycarbonate weatherproof enclosures offer the best of all worlds. UL-listed NEMA 4X & 6P provide a dry and dust-free environment in even the harshest locations, thanks to the formed-in-place PUR gasket.
Fibox's non-conductive, rust-free, thermal-set plastic has a much higher impact resistance than metal or fiberglass. Fibox offers unparalleled UV protection, tested to withstand 5,000 hours in an accelerated aging test without blooming like fiberglass. Our radio transparent plastic is ideal for remote solar applications eliminating the need for an external antenna. Lastly, polycarbonate is exceptionally lightweight, easy to transport and modify, and handles cold and blazing heat. Fibox's ARCA IEC 806030 No-Mp quickly dissipates the heat generated by busbars in today's 400 and 500 amp applications.
Protect Your Solar Project With Fibox Enclosures
Whether it's large-scale solar power plants, community solar projects, micro-grid projects, or residential solar power systems, Fibox offers the best box under the sun!
Find a Local Rep
Back to Industries