ARCA-IEC NEMA Cabinets
Driven by innovation and market demand. The ARCA is the ideal and cost-effective alternative to stainless steel NEMA cabinets and fiberglass enclosures. These NEMA 4X hinged electrical enclosures are a real game-changer. Sized up to 32 x 24x 12 inches and made for harsh and demanding environments, the ARCA cabinet series is the largest polycarbonate UL listed, NEMA 4 cabinet in the world.
ARCA cabinets are available in both portrait and landscape orientation, consequently offering greater versatility. The ARCA series provides you the first real enclosing alternative to steel boxes. Thanks in part to its high impact resistance, this watertight, UV-resistant polycarbonate enclosure will not dent, rust, crack or bloom like steel or fiberglass, therefore offering longer field life. Polycarbonate cabinets weigh considerably less and are easier to modify than their metal or fiberglass counterparts, saving both time and money.
Material: Polycarbonate, PC
NEMA Type: NEMA 1, 4, 4X, 12 and 13
Size Range (H x W x D) in: 7.87 x 11.81 x 6.22 D → 26.62 x 31.5 x 12.2 D
Size Range (H x W x D) mm: 200 x 300 x 150 D → 600 x 800 x 300 D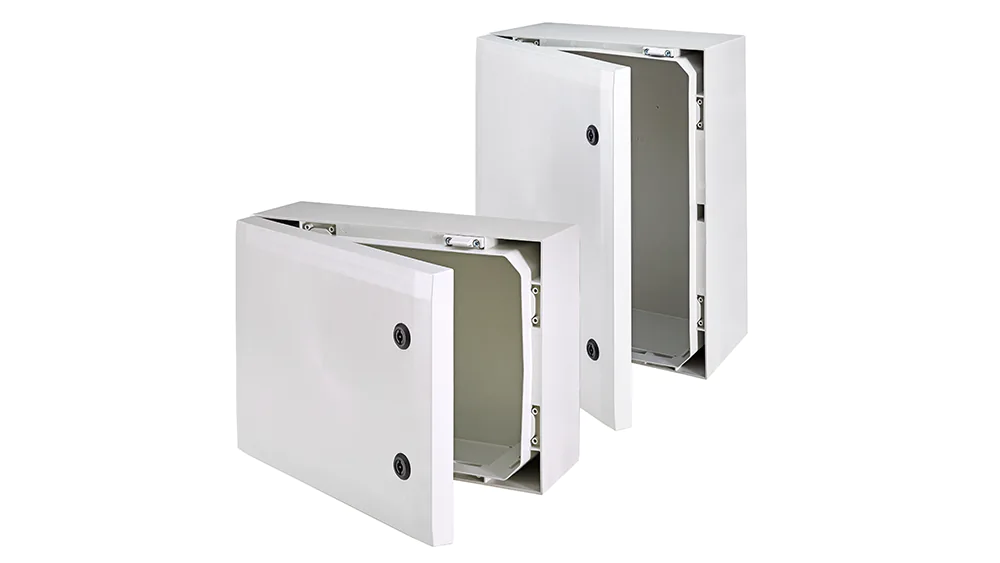 ARCA-IEC Products:
Size Range (H x W x D):
A Cabinet for Today's Market
The ARCA is manufactured in Fibox's wi-fi-friendly polycarbonate, a rust-free, high-impact plastic. Your components stay dry and dust-free, thanks in part to the formed-in-place PUR gasket. Therefore this watertight seal protects in the rain, sleet, and snow. These features are just a few of the reasons why the ARCA–IEC is your ideal NEMA 4 cabinet enclosure solution for any enclosing applications.
Polycarbonate hinged electrical cabinets
For extra security, the ARCA features internal hinges and quarter-turn DIN locks that minimize tampering. ARCA cabinets are ideal for protecting electrical wiring and components against hazards such as falling dirt, windblown dust, dripping water, and splashing of oil and non-corrosive agents.
Custom Enclosures
Fibox Enclosures stocks all the standard accessories you'll need for your NEMA cabinet. Fibox can easily machine your enclosure with custom cutouts, holes, and recesses at our distribution center, giving you a ready-made solution right out of the box.
In a nutshell, the ARCA is more than a plastic electrical enclosure. It has the features of a metal box and the benefits of a high-grade thermoplastic polycarbonate enclosure. Advantages include being lighter weight, rust-free, and easier to modify compared to metallic enclosures.
For more information about the ARCA NEMA 4X polycarbonate cabinets enclosure, contact Fibox customer service today.
---
ARCA-IEC Product Catalog
ARCA-IEC Technical Information
Conformity to standards:
USA Enclosures for Electrical Equipment
UL Type 4, 4X; UL File E75645
Canada Industrial Control Equipment
Enclosures for Electrical Equipment/cUL
Europe Empty enclosures for low-voltage switchgear and control gear assemblies EN 62208:2003 (50298:1998)
Europe Safety of Information Technology Equipment EN 60950
RoHS directive 2002/95/EC
Russia GostR - Gost Russian certificate of conformity
Property
Polycarbonate (PC)
Ingress Protection (EN 60529)
IP 65/66
Impact Resistance (EN 62262)
IK 08 (side surface),
IK 09 (front surface)
Temperature Range, short term (Celsius)
-40°...120°C
Temperature Range, short term (Fahrenheit)
-40°...250°F
Temperature Range, continuous (Celsius)
-40°...80°C
Temperature Range, continuous (Fahrenheit)
-40°...175°F
Electrical Insulation
Totally insulated
Light Gray Parts Color
RAL 7035 Industry Gray
Transparent Clear PC Cover
Clear transparent
Cover Screws
RAL 7035
Cover Screws
Polyamide (PA)
Gasket
PUR/EPDM
Enclosure Flammability Rating
Complies with UL 508
Glow Wire Test (IEC 695-2-1) Self-extinguishing (PC)
960°C
Non-toxicity
Halogen Free
UV Resistance
Complies with UL 508
Chemical Resistance*
Good
Data subject to change without notice.
* Consult separate raw material data for more detailed information
GET PRODUCT SUPPORT
Have questions or need support? The Fibox team is here to help.
Contact Us