CARDMASTER Enclosures
CARDMASTER enclosures are ideal for packaging instrumentation, monitoring, and process control equipment. The CARDMASTER range features two specialized compartments: circuit boards, operator controls, readouts, and another for terminal and interface wiring.
Material: Polycarbonate
NEMA Type: Type 1, 4, 4X, 12, and 13
Size Range (H x W x D) in: 6.5 x 6.3 x 3.5 D → 15.4 x 12.4 x 6.6 D
Size Range (H x W x D) mm: 166 x 160 x 89 D → 390 x 316 x 167 D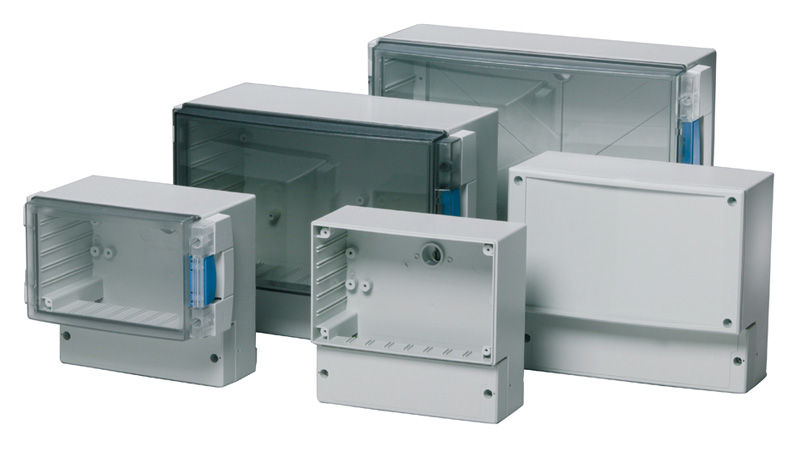 CARDMASTER Products:
Size Range (H x W x D):
CARDMASTER Technical Information
Conformity to standards:
USA Enclosures for Electrical Equipment
UL Type 1, 4X*, and 12; UL File E75645
* - PC 17/16L, 17/16 and 21/18: -3 and -FC3 models
Canada Industrial Control Equipment
Enclosures for Electrical Equipment/cUL
Europe Empty enclosures for low-voltage switchgear and
Europe Safety of Information Technology Equipment EN 60950
RoHS directive 2002/95/EC
Russia GostR - Gost Russian certificate of conformity
Property
Polycarbonate (PC)
Ingress Protection (EN 60529)
IP 65
Impact Resistance (EN 62262)
IK 07 (side surface),
IK 08 (front surface)
Temperature Range, short term (Celsius)
-40°...120°C
Temperature Range, short term (Fahrenheit)
-40°...250°F
Temperature Range, continuous (Celsius)
-40°...80°C
Temperature Range, continuous (Fahrenheit)
-40°...175°F
Electrical Insulation
Totally insulated
Light Gray Parts Color
RAL 7035
Transparent Clear PC Cover
Smoked Gray or Clear
Latches (PA)
RAL5023
Gasket
PUR/EPDM
Enclosure Flammability Rating
Complies with UL 508
Glow Wire Test (IEC 695-2-1) Self-extinguishing (PC)
960°C
Non-toxicity
Halogen Free
UV Resistance
Complies with UL 508
Chemical Resistance*
Good
Data subject to change without notice.
* Consult separate raw material data for more detailed information
GET PRODUCT SUPPORT
Have questions or need support? The Fibox team is here to help.
Contact Us