ARCA-JIC NEMA 4X Enclosures
Fibox's NEMA 4X enclosures with clear lids offer superior protection for internal components while allowing for easy visual inspection in harsh environments. Our enclosures are ideal for instrumentation and control applications. Choose from a wide range of sizes and configurations to fit your specific needs.
Our ARCA-JIC hinged polycarbonate enclosure series is UL listed and rated NEMA type 4X by the National Electrical Manufacturers Association (NEMA). The NEMA 4X and 6P ratings ensure these enclosures are protected from windblown dust, water, snow, and debris. Our polycarbonate enclosures are made in America and are available in standard JIC sizes, with most sizes featuring a clear lid or opaque cover.
Material: Polycarbonate
NEMA Type: NEMA 4, 4X, 6, 6P, 12, 12K and 13
Size Range (H x W x D) in: 6 x 6 x 4 D → 24 x 24 x 10 D
Size Range (H x W x D) mm: 152.4 x 152.4 x 101.6 D → 609.6 x 609.6 x 254 D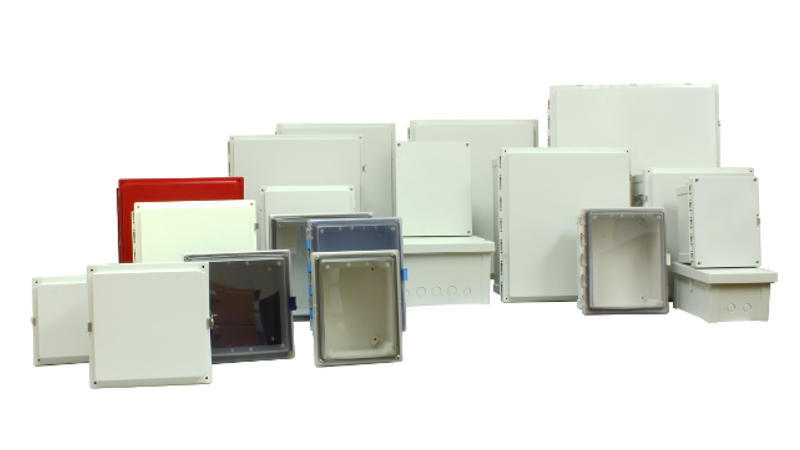 ARCA-JIC Products:
Size Range (H x W x D):
Get to Know the ARCA-JIC
With its formed-in-place PUR gasket, the ARCA-JIC protects sensitive equipment from water ingress and keeps electrical systems free from dust and dirt, making it the ideal indoor or outdoor enclosure.
Our polycarbonate NEMA 4X enclosures are designed for the harshest locations and offer more than just a plastic box or a hinged plastic electrical case. The ARCA-JIC series is UV- and impact-resistant and has an IK 09 rating, ensuring years of active outdoor service. Rust-free polycarbonate also offers excellent chemical resistance compared to metal and fiberglass boxes.
Fibox polycarbonate enclosures are wi-fi friendly and provide an excellent solution for the 5G/6G revolution, eliminating the need for external antennas.
Custom Electrical Enclosures with Opaque or Clear Lids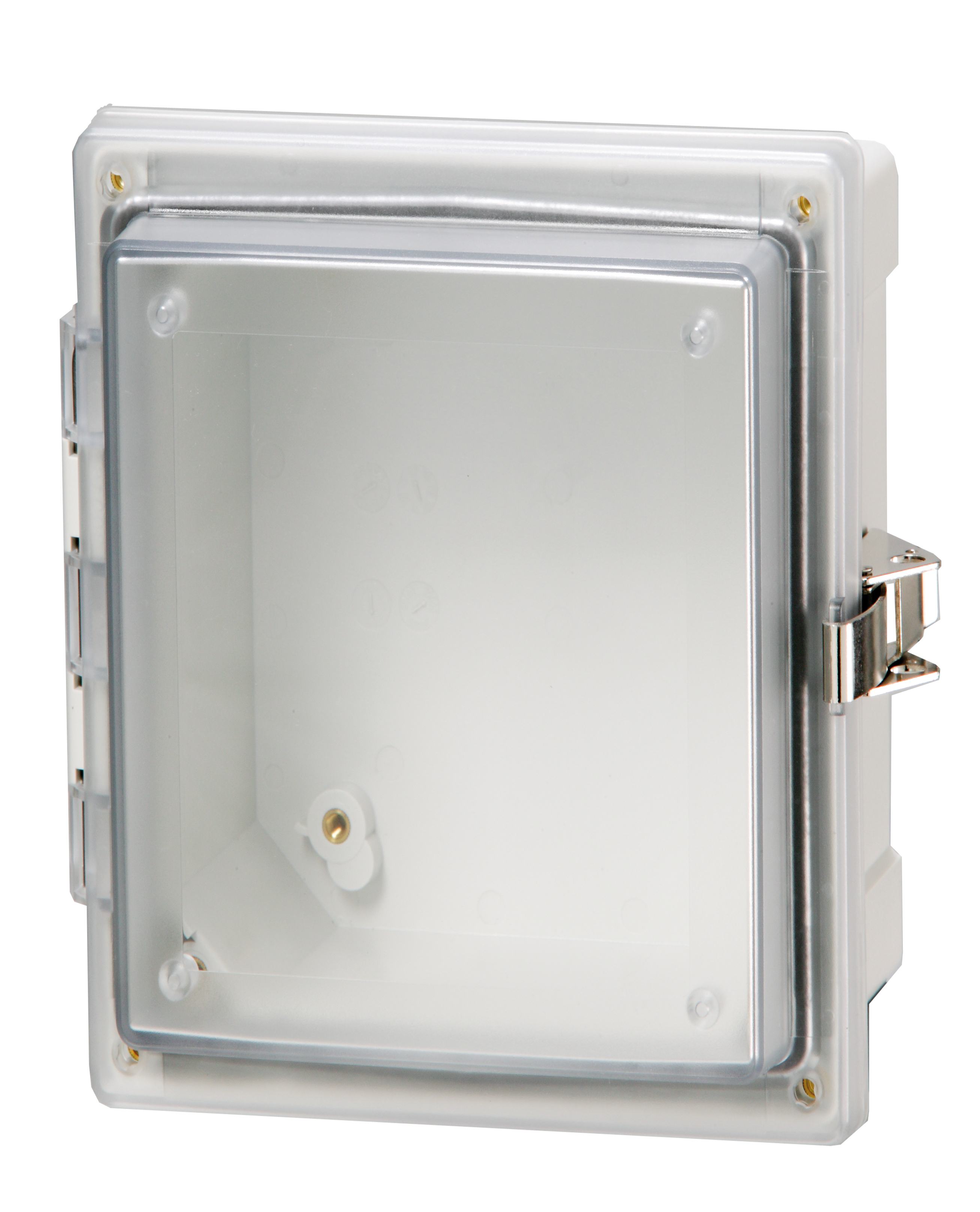 Our polycarbonate NEMA 4X enclosures with clear lids offer the largest viewing area compared to an inserted sight window. We also provide custom electrical enclosures with opaque or clear lids, which can be customized to your application's specific needs. Your custom enclosure will represent you and your brand with cutouts, printing, labeling, and color painting. We stock all the standard hardware and accessories you might need, and our enclosures range in size from 6.0 x 6.0 x 4.0 to 24.0 x 24.0 x 10.0 inches, with various cover options available.
The ARCA-JIC is a watertight NEMA 4X and 6P cabinet enclosure that consistently outperforms metal and fiberglass boxes and makes an excellent industrial control panel enclosure. Use our NEMA-rated cable glands to retain your enclosures' NEMA 4X status and bypass gasket, glued-in, or bolted-on windows with a clear lid. Fibox is proud to offer the industry's first and only NEMA 4X JIC enclosure with formed-in-place gasket, which save time and eliminate the need for DIY customization.
To specify an application and receive a quote, contact Fibox customer service.
ARCA-JIC Product Order Code
The ARCA-JIC is a versatile and robust enclosure series that can fulfill your business needs. Check out the order code below to see how we can make the ARCA enclosure as unique as your business.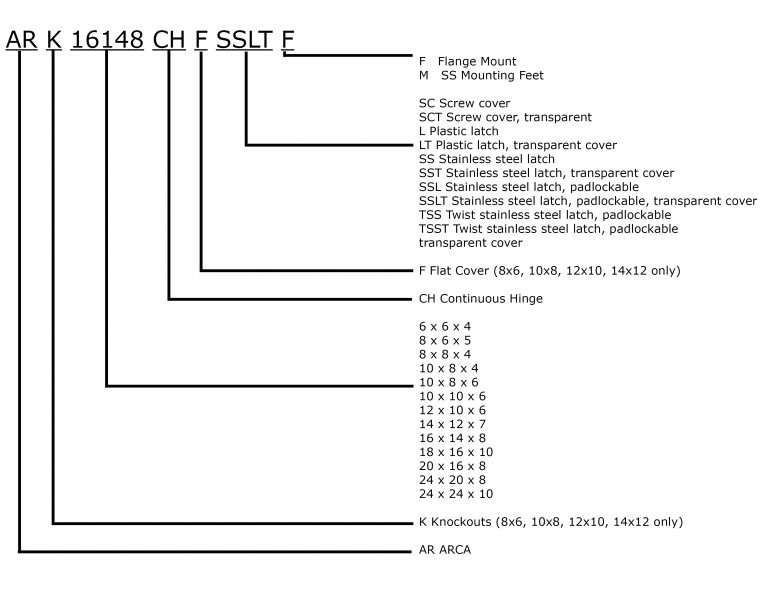 ARCA-JIC Product Catalog
ARCA-JIC Technical Information
Conformity to standards:
USA Enclosures for Electrical Equipment
UL Type 4, 4x, 6, 6P, 12, and 13
NRTL Listing
Underwriters Laboratories UL
cUL Listed under UL 508
SGS FIMKO CE Conformity
RoHS directive 2002/95/EC
GostR - Gost Russian certificate of conformity
| Property | Polycarbonate (PC) |
| --- | --- |
| Ingress Protection (EN 60529) | IP 66/67 |
| Impact Resistance (EN 62262) | Impact rating per UL 508 / UL 50 |
| Temperature Range (Fahrenheit) | -40° to 175°C |
Data subject to change without notice.
* Consult separate raw material data for more detailed information.
GET PRODUCT SUPPORT
Have questions or need support? The Fibox team is here to help.
Contact Us